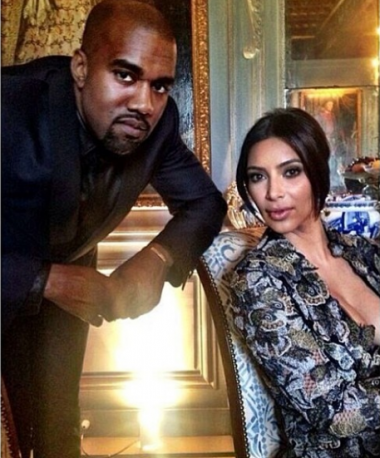 (Instagram/Kanye West)Kanye West, seen here with his wife Kim Kardashian, says 'My number one enemy has been my ego.'
American hip-hop artist Kanye West has raised a lot of eyebrows because of his controversial songs, particularly "I Am A God," which apparently revealed his God complex.
When he was asked during a BBC interview what he meant in the song, the "Famous" singer said, "I just told you who I thought I was! A God! I just told you! That's who I think I am! Would it have been better if I had a song that said, 'I Am a N—-r?' Or if I had a song that said, 'I Am a Gangsta?' Or I had a song that said, 'I Am a Pimp?' All of those colours and patinas fit better on a person like me, right?"
West's comments drew a lot of ire from the Christian community, but he made up for it by tweeting about his shortcomings and acknowledging that God is the King.
"My number one enemy has been my ego," he admits. "There is only one throne, and that's God's."
Just recently, West and his wife Kim Kardashian from the reality show "Keeping Up With the Kardashians" got into a public feud with "Shake It Off" songstress Taylor Swift because of his song "Famous."
In it, West sang that he might have sex with Swift in the future because he "made that [expletive] famous." After the song was released, Swift's slammed the song as misogynistic. But West and his wife said Swift had approved of the song, so there's no reason why she would criticise it. Kardashian even released a video of their conversation on Snapchat.
However, Swift says she did not appreciate being called "that [expletive]" in front of the entire world. "Of course I wanted to like the song. I wanted to believe Kanye when he told me that I would love the song. I wanted us to have a friendly relationship. He promised to play the song for me, but he never did," she writes on her Instagram account (@taylorswift).
"While I wanted to be supportive of Kanye on the phone call, you cannot 'approve' a song you haven't heard. Being falsely painted as a liar when I was never given the full story or played any part of the song is character assassination. I would very much like to be excluded from this narrative, one that I have never asked to be a part of, since 2009," she says.