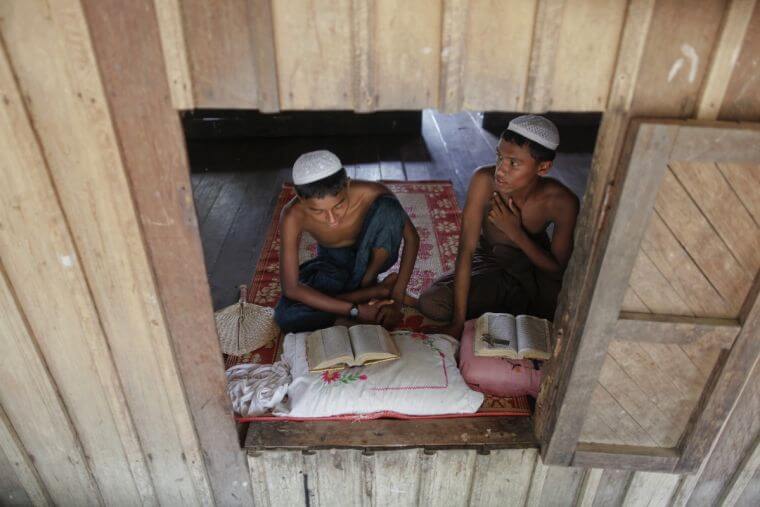 Rohingya Muslims live under severe government restrictions that mean they cannot freely travel or marry and have limited access to education and healthcare. Most are stateless, recognised as citizens neither by Myanmar nor neighbouring Bangladesh. Reuters
Malaysia has issued a strongly-worded statement on what it describes as "ethnic cleansing" against Myanmar's Muslim Rohingya minority.
The statement was released ahead of a planned solidarity march in Kuala Lumpur due to be attended by Prime Minister Najib Razak.
It is the latest criticism from Muslim-majority Malaysia against Myanmar as violence continues to trouble northern Rakhine state. Four years ago, the state saw violent clashes between Buddhists and Muslims, which left hundreds dead.
"The fact that only one particular ethnicity is being driven out is by definition ethnic cleansing," Malaysia's foreign ministry said in a statement.
"This practice must stop, and must be stopped immediately in order to bring back security and stability to the Southeast Asian region."
Hundreds of people have crossed the border into Bangladesh, with some reporting abuses by security forces, and Malaysia claims that the number of Rohingya within its own borders as well as its neighbors' has made the violence an "international matter".
But Myanmar has played down Malaysia's concerns, saying on Friday that it should respect sovereign affairs and adhere to the Association of Southeast Asian Nations' (ASEAN) policy of non-interference in other member countries' internal affairs.
Malaysia summoned Myanmar's ambassador last week to address the treatment of the Rohingya and the national soccer team's friendly under-22 matches with Myanmar were called off in protest.
Saturday's solidarity march is expected to be attended by senior government leaders and led by Najib.