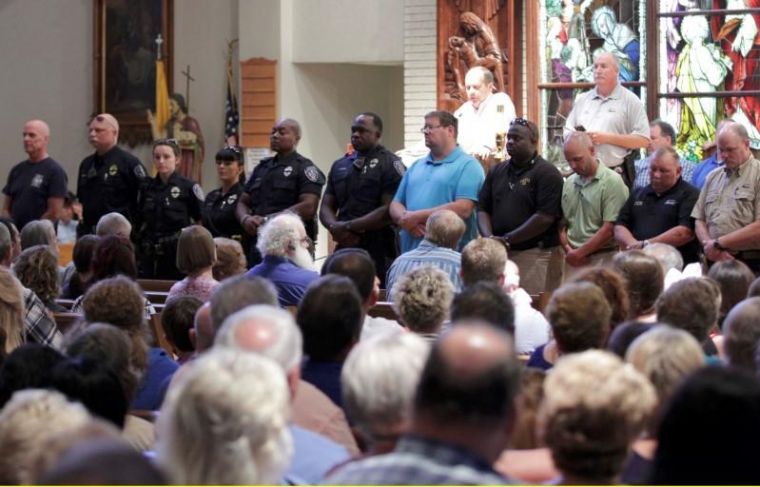 Reuters – Police officers attend a vigil for three of their fellow law enforcers who were murdered by a gunman in Baton Rouge, Louisiana, at Saint John the Baptist Church in Zachary, Louisiana, on July 17, 2016.
Following the deadly shooting in Baton Rouge, Louisiana that left three police officers dead and three others injured, the community is turning to their faith to overcome the tragedy.
"In the midst of our sorrow there is hope that God will redeem even this for His good purpose," said Jeff Ginn, pastor of Istrouma Baptist Church, according to the Baptist Press and Christian Telegraph. "What Satan intends to destroy and divide, God will use to unite," he added.
The church was to start its first morning service on July 17 when Ginn learned of the shooting perpetuated by suspect Gavin Long. It immediately changed the service to focus on prayer for the situation.
Ginn said the service for that day was different from most Sundays.
"There was an air of heaviness over the services," he said. "One of the points I made in my message was [that] Jesus had joy in spite of the sorrow He experienced. So we pressed on, remembering those who were suffering."
Ginn said if the church does not act to offer hope in such situation, it was unclear who will.
"Hope rests in the Lord. The church is the one who speaks His Word to the watching world. We have to be His voice in this moment," he said.
The child of Montrell Jackson, who was of the three slain officers, attended a daycare centre at Florida Boulevard Baptist Church in Baton Rouge.
"Our hearts are heavy as we learn the loss of one of our daycare families. Our prayers and thoughts go out to their families and all involved," the church's daycare centre wrote on its Facebook page.
Pastor Thomas Shepard of the Church of Addis and church members took time to minister to the family of Matthew Gerald, another police officer who was killed.
"I prayed with the sister-in-law. We let her know we could meet with her sister [Gerald's wife] or their children to provide grief counselling and whatever else they might need," he said.
Shepherd urged members to pray for the local police.
"After this morning's unfortunate events, I would like to call our people to prayer," said Shepard. "The officers affected in this tragedy are a lot closer to home than we expected. Some of our member officers were on the scene when several suspects were picked up in Addis for questioning in connection with the shooting."
Louisiana Baptist Convention Executive Director David Hankins lamented that the U.S. now experiences tragedies like the Baton Rouge shooting often.
"Jesus reminds us that the thief, Satan himself, comes to steal, kill and destroy. Tragically we're seeing this play out before our eyes in ways we've never imagined. However, Jesus concludes His response by stating He comes to give life," he said.