GUIYANG, Guizhou— (China Aid) A pastor imprisoned in China's central Guizhou province on a falsified "divulging state secrets" charge penned a letter to his wife on June 30, thanking God for the chance to rest after serving as a pastor for 23 years.
"This is a good place to rest, where I am cut off from the rest of the world and brought closer to God," Li Guozhi, a pastor at Huoshi Church who goes by the pseudonym Yang Hua, wrote of his jail cell. "I can no longer hear the clamorous noise, but can better listen to the Lord's voice."
Government personnel took Yang into police custody on Dec. 9, 2015, after he attempted to prevent them from confiscating one of the church's hard drives. They sentenced him to five days in administrative detention a day later for "the crime of obstruction of justice." On Dec. 15, authorities charged him with "gathering a crowd to disturb social order" and extended his sentence five more days.
Continue reading this story >>
A special message from the publisher…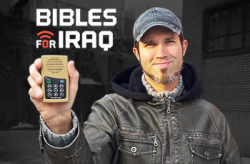 Dear Reader, our hearts are deeply grieved by the ongoing devastation in Iraq, and through this we have been compelled to take a stand at the gates of hell against the enemy who came to kill and destroy. Bibles for Iraq is a project to put Arabic and Kurdish audio Bibles into the hands of Iraqi and Syrian refugees—many of whom are illiterate and who have never heard the gospel.Will you stand with us and make a donation today to this important effort? Please click here to send a Bible to a refugee >>