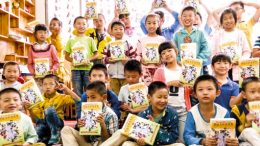 BIBLE SOCIETY NEWS
Wednesday 21 December 2016
About 60 million children in China are "left behind" in their home villages, to be looked after by their grandparents or relatives because their parents are trying to find work in cities.
This enormous group of neglected children – more than a quarter of the 215 million children in China – is in great need of hope, encouragement and care.
These "left-behind" children are highly vulnerable to serious crimes such as sexual abuse and assault and suff..