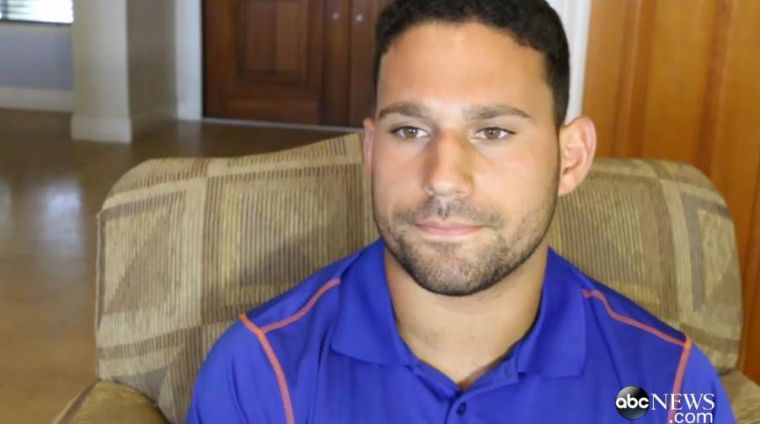 Screenshot/ABC News video – In saving the woman, Cristian Garcia said, 'God put me in the right place at the right time.'
A football player from the University of Florida's Florida Gators is crediting God for using him to stop a man from allegedly sexually assaulting a woman at the back of the bar where he works.
"God put me in the right place at the right time," said linebacker Cristian Garcia, who works as a security guard at 101 Cantina in Gainesville, Florida, according to ABC News.
Garcia said that on July 22, he was taking the trash out when he saw a woman "pinned up against a dumpster" at the back of the bar.
He said the woman's body was limp, an indication that she was unconscious. The alleged attacker told him that she was his girlfriend but what he saw indicated that something was wrong.
"Nobody deserves this to happen to them," he said.
Garcia and his co-worker Leroyeo Simmons decided to act. Simmons filmed the incident while Garcia confronted the man.
"I grabbed the guy by his shoulder. We went to the alleyway. He began to get violent and tried to throw a few punches at me but he was too far to even come close to hitting me. He slipped and busted his face on the floor," Garcia narrated.
After that, he said, the attacker's friends pulled him away and they fled the scene.
"It was fight or flight and I just reacted," said Garcia of saving the woman.
Garcia has gained prominence because of his heroic actions. However, he said "the attention has been cool, but a horrible act happened that night."
According to Gainesville police spokesperson Ben Tobias, Garcia and Simmons helped to stop the sexual assault.
The alleged attacker has been named as Christopher Shaw, who was held in Alachua County Jail with bail set at $500,000. He is facing charges of sexual battery, the Associated Press reported.
CBS News reported that when the woman woke up at a hospital several hours later, she told police she did not know Shaw and did not consent to have sex with him.
She said she tried to push him away "but was physically helpless because she was going in and out of consciousness due to her level of intoxication."
According to the police report, based on the video, the woman "was mentally and physically unable to give consent due to her level of intoxication.
"The victim was slumping over and unable to hold up her head. The (defendant) can be seen pushing the victim back up. … When pushed back up the victim's eyes were closed and her head fell back against the dumpster," it said.