It's harmless, surely? Three Swedish priests respond to the murder of Fr Jacques Hamel by Muslim extremists by encouraging people to share images of the cross in support of persecuted Christians everywhere. The Mitt Kors (My Cross) movement took off and has now grown to 10,500 members. Its Facebook group has countless images of crosses and expressions of support for suffering Christians.

Facebook/Mitt Kors – Michael Gerard Helders posted: "My new cross came in the mail today. Thought it was time to start with cross again."
But the group has also faced a backlash from people who say it's encouraging anti-Islamic hatred. And criticisms have come not just from outside the Church, but within it, infuriating the Mitt Kors founders and leading to accusations that the Church is failing to stand up for Christians because of a misguided political correctness.
Mitt Kors was founded by Annika Borg, Johanna Andersson and Helena Edlund, all then ministers in the Church of Sweden. Andersson has since left, angry and disappointed at what she says is the group's treatment by the Church.
The row first broke when the Church's communications manager, Gunnar Sjoberg, criticised the movement on his personal Facebook page, saying: "The call seems seditious and unChristian in the contradictions that already exist. Do we want to draw the matter to the religious war?"
A well-known commentator, Goran Rosenberg, wrote about the ambiguous nature of the symbol of the cross, saying that for a Jew it could never be simply a "symbol of light". Rosenberg argues that most victims of Islamist terror are Muslims and objects to singling out Christians as objects of particular concern. He says the campaign evokes the image of a "nascent religious war" and has "a political agenda whose most predictable consequence is an increased polarisation between 'Christians' and 'Muslims' and the transformation of a cross on [the] neck to a collective declaration of war".

Archbishop Antje Jackelén.
The head of the Church of Sweden, Archbishop Antje Jackelén, was drawn into the row as well. She had faced criticism for not immediately condemning Jacques Hamel's murder (she was on holiday) but in an interview with the Expressen newspaper she implicitly criticised Mitt Kors movement. Jackelén pointed out that she was not expected to speak out about the killings in Munich or the death of priests in Mexico; this, she implied, was specifically because it was a Muslim killing a Christian priest. And she said of persecuted Christians: "They are baptised into the Christian church and as Christians, we have a special bond with our Christian brothers and sisters, but it is the same baptism that gives us the mission to care for, to help a vulnerable person completely regardless of creed, nationality, race and gender . We do not help people because they are Christians, but because we are Christians."
It is this insistence that Christians should show solidarity with people in need whatever faith they belong to, and not just other Christians, that has polarised opinion. It has also led to Mitt Kors becoming a lightning rod for wider debates about immigration and Sweden's treatment of refugees.
Sweden has historically been a humanitarian superpower when it comes to refugees, accepting more in proportion to the size of the country than any other nation in the developed world. But the cracks are showing. It has toughened rules for asylum-seekers. Its social services are struggling to cope. There is gang violence involving migrants. The right-wing Sweden Democrats party is on the rise.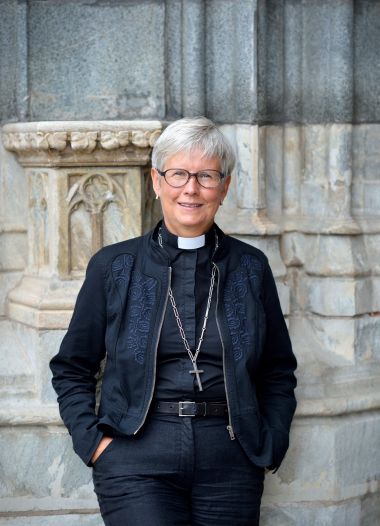 Magnus Aronson – Rev Dr Cristina Grenholm.
The tensions are admitted by Rev Dr Cristina Grenholm, secretary for the Church of Sweden, who also points out that the Church is in the vanguard of caring for refugees. "For example, in many parishes there are cafés where refugees learn elementary Swedish by talking to volunteers, some of whom were once refugees themselves," she told Christian Today.
While it was good that refugees are are "integrated in our society and that they do not become isolated", she says: "We do not support the right-wing requirement that refugees should be quickly assimilated."
And what about Mitt Kors? Grenholm says some of the Church's bishops have joined the group, as well as the president of the general synod. "However, some voices have pointed to the risk that the cross may be used as a sign that marks distance towards others, rather than being a sign of peace. At the same time, the archbishop has pointed to the positive effects of the group, since it has helped people to share their own stories of what Christian faith means to them."
Asked whether Christians should be more concerned about other Christians than about Muslims, she repeats the archbishop's line: "We reach out to others, not because they are Christians, but because we are Christians."
But none of this satisfies the defenders of Mitt Kors – or those who attack the Church for its liberalism on refugees and its reluctance to stand up, as they see it, for Christianity. One of these is Ann Heberlein, an academic and broadcaster, who alleged in an Expressen article that the Church "does not want to lead a Christian community" and points to its criticisms of Mitt Kors as a reason for its decline. She said the Church leadership "want to lead a general ethical association for humanistic values of the most vulgar kind". Heberlein herself comes from a particular position: she is said to have resigned from the Sydsvenskan newspaper after its culture editor had forbidden her from writing critically about Islam and immigration on her private Facebook page, though he denied doing so.
But the Mitt Kors founders themselves fiercely reject attempts to identify themselves or their movement with Islamophobia or a right-wing agenda. One of them, Annika Borg, told Christian Today the resistance to the movement came from "a small, although loud, group in the elite of the Church of Sweden and from leftists". Of Gunnar Sjobberg's original post she said: "At first we did not take it seriously, because it is completely absurd to argue as he did: that Christians should not wear their crosses and show solidarity with persecuted sisters and brothers. Unfortunately the words from the office in Uppsala began to spread."
She said they were "deeply disappointed" by the Church's response to the initiative, which was overwhelmingly popular: "How does one explain to people that the Church has a problem with the cross and do not want to provoke by showing it? That is how the unfortunate response and silence – lack of support – from this elite has been perceived.
"What message does it send to the 6,2 million members of the Church of Sweden? To the refugees from Syria and Iraq who have been persecuted for their faith?"
And she flatly denies that the group is anti-Islamic: "There is absolutely no basis for these outrageous accusations against us and the group."
Borg has also pointed out, in an article in response to Rosenberg's, that she belongs to a network linked to "theologically liberal and moderate Muslims in North Africa working against violent Islamism"; hardly likely if she were Islamophobic herself.
However, for one of the three Mitt Kors founders, it's all been too much. Johanna Andersson wrote of feeling harassed and bullied by the Church, and resigned her ministry last month. She has, she says, been called "unChristian" and "xenophobic" and could no longer cope with the abuse; some was so extreme she has consulted her lawyers.
She also wrote an open letter to Archbishop Jackelén following the latter's Expressen interview last Sunday, accusing her of casting aspersions on Mitt Kors and "baselessly connecting us with hidden agendas".
In Jackelén's reply, she denied criticising the Mitt Kors Facebook group, saying "on the contrary, I believe that there is a need to share personal stories about the cross and the Christian faith". But she said that among the reactions to Jacques Hamel's murder, "we also saw many who wanted to make this a Muslim attack on the entire Christian world" and that some wanted "to paint a cultural and civilisational struggle between the Christian world and the Muslim world".
She referenced a tweet she had received saying "We have bought a fine cross, now hanging in the windshield of the car. Islam go to hell. " This "crusade rhetoric" was a "devastating development", she said.
What's clear about the Mitt Kors row is that against the wishes and intentions of its founders, it has been dragged into a much wider debate about how the Church – and Swedish society – deals with cultural tension, refugee policy, xenophobia and the right response to Christian persecution. And what seems to have happened is that in an attempt to assert the value of all human life and to stress that the Church is there for everyone, the Church's leadership has alienated many by its reluctance to stand up for Christians in particular. As Borg told Christian Today: "The Church has taken the strange position that if they point out the fact that Christians are eradicated in the Middle East, they automatically take a stand against somebody else."
Clearly, Mitt Kors is a simple statement of faith and solidarity, just as its founders said. Also clearly, its message can be hijacked by right-wing Islamophobes. But is the answer to that to discourage people from wearing the cross, or from caring for Christians in particular? No, says Mitt Kors; yes, says Archbishop Jackelén.
To put it another way: does showing solidarity with persecuted Christians automatically mean that you don't show solidarity with persecuted Muslims? And that question is a version of one Sweden has had to ask itself during the refugee crisis: how far can we continue to open our arms to everyone, and still remain ourselves?
It has not been answered yet.
Follow Mark Woods on Twitter: @RevMarkWoods