As mentioned yesterday, Amazon is updating the ways sites like mine may or may not link to their Kindle deals and remain in compliance with their affiliate program. For that reason I am trying some new options. I apologize for the inconvenience as I try to navigate this.
Today's Kindle deals include: Set Free by Stephen Owens; Evidence for God by William Dembski; Preaching to a Post-Everything World by Zack Eswine. You can learn more and buy them right here.
John Piper has put together a short guide to free will.
Christianity Today writes about Tim LaHaye who died yesterday. "The founder and president of Tim LaHaye Ministries and founder of the PreTrib Research Center, LaHaye sold 80 million copies of the series with Jenkins. 'In terms of its impact on Christianity it's probably greater than that of any other book in modern times, outside the Bible,' the late Jerry Falwell, a friend of LaHaye's, told Time magazine in 2005." (Alternatively, read WORLD.)
40 Years of Theological Education
D.A. Carson is Jason Allen's guest on the most recent episode of Preaching and Preachers.
Fred Zaspel interviews four theologians outstanding theologians on the recent Trinity debate. He speaks with Dr. Mike Ovey, Oak Hill College, London, UK; Dr. Fred Sanders, Torey Honors Institute, Biola University, La Marida, CA; Dr. Scott Swain, Reformed Theological Seminary, Orlando, FL; Dr. Steve Wellum. The Southern Baptist Theological Seminary, Louisville, KY.
Sam Storms: "We Protestants often fail to take note of the unique and sometimes profitable contributions of Roman Catholic theologians of the past. So today we look at 10 things we should know about Thomas Aquinas."
This Day in 1833.183 years ago today, Britain's House of Commons banned slavery. Upon hearing the news, William Wilberforce, who gave his life to abolish the slave trade said, "Thank God I have lived to witness [this] Day ." He died three days later. *
Bill Mounce asks for help translating a word that doesn't have a clear modern-day English equivalent. It's in Luke 10 and a few other places: "Sell your possessions and give to the poor. Provide purses for yourselves that will not wear out."
Michael Kruger has shared the third entry in his series "Taking Back Christianese." We often hear Christians say things like "Don't feel bad about this sin. If you are a believer, then God is always pleased with you. He can never be more pleased with you than he is right now." Is that accurate?
A few years ago John MacArthur penned some articles meant for the Young, Restless, Reformed crowd. Here I reflected on them.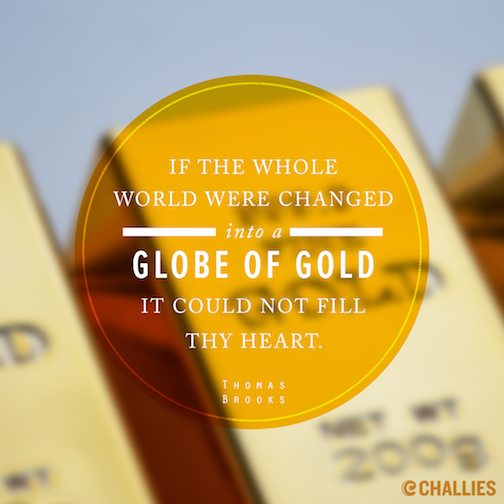 If the whole world were changed into a globe of gold it could not fill thy heart. —Thomas Brooks