Reuters – The Olympic Park in Rio de Janeiro.
There's no getting around it: the 2016 Olympic games have already been seriously marred by scandal, controversy and other serious setbacks. As Mark Woods wrote, long before the games had begun we'd had mass slum evictions, suspicious worker deaths, huge problems around security in Rio and an athletes village deemed 'unsafe'. Meanwhile in recent weeks the outbreak of the Zika virus (which has caused many competitors to pull out of their events) and the Russian doping scandal have dominated the news far more than actual sporting anticipation ever could.
In the light of London 2012, which will be remembered as a celebration of all that was good both on and off the sports field, it's all a rather pale imitation of what a Summer Games should be.
Yet this is still an Olympic Games, and when that flame which symbolically still burns reaches Rio's Maracanã stadium, the watching world will be hoping that it will still somehow ignite a festival of everything that's good in sport and human culture. And if it manages to do so, it will partly be because the Olympics are underpinned by three 'core values' which promote exactly that. At a moment when the integrity of the Games are in serious question, it's potentially a vital moment for us to rediscover them. And as we do that, I think we discover a great opportunity to talk about how they seem naturally to connect with the Christian story.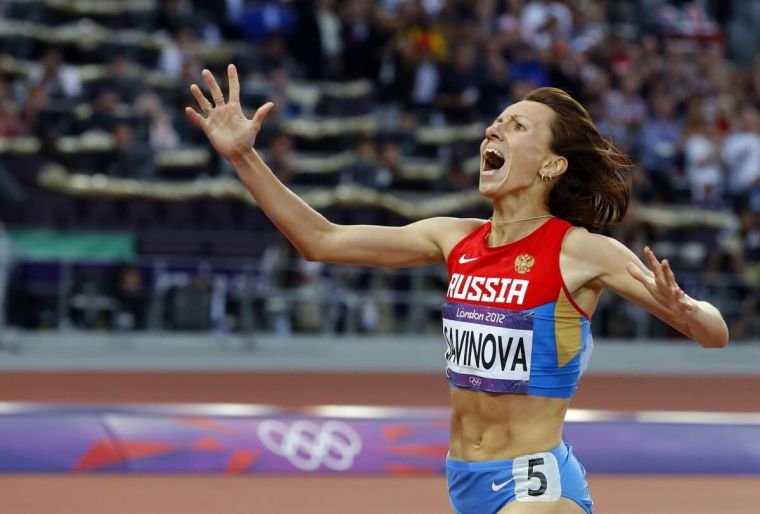 Reuters – Russia's Mariya Savinova wins gold in the women's 800m final at the London 2012 Olympic Games.
The three core values of the Olympic movement – Respect, Friendship and Excellence – might seem like a blueprint for humanism, but it seems to me that they're actually three points at which Olympism interfaces perfectly with Christianity. In fact more than that, I think they provide us with a simple, three-step method for explaining the Gospel. Below you'll find an illustration of what I mean, which draws connections between these values and Jesus' words in John 15, where he's giving his own values masterclass to the disciples.
I wonder if this simple, three-point illustration might be a helpful way for preachers and pub evangelists alike to explain the Christian message relevantly over the next couple of weeks, at a time when the world is desperate for a bit of moral inspiration. It demonstrates how the values of the Olympics chime perfectly with the values that we carry as Christians, and how they ask pretty much the same things of athletic competitors that God asks of us in the great race of life.
RESPECT: playing by the rules
Part of the reason behind the total outrage at the apparently-state-sponsored Russian doping programme is that it has undermined a competition which has always striven to be idealistically pure. The rules of the Olympics demand a hallowed respect from competing nations and their athletes, because the Games represents the pinnacle of sport. In the same way, there are cosmic rules to the universe, clearly felt through our shared morality, and explained by the Christian faith. The greatest of these isn't about not cheating, or even not murdering our fellow runners; it's about loving the God who created everything, or if you will, respecting the game and the organising body behind it. That's not a selfish thing on God's part, but a natural response in the light of his overwhelming love for us. In John 15:9 Jesus says: "As the Father has loved me, so have I loved you. Now remain in my love." That's the primary rule of human existence: that we who are loved must love also; "We love because he first loved us" (1 John 4:19).
Related
FRIENDSHIP: it's all about relationship
The Olympics might celebrate individual achievement, but they're really a team game. Even athletes who run, jump or throw alone are backed by a huge supporting entourage, and most nations take a team to the Games among which camaraderie and friendship are vital. Witness how in 2012 Team GB captured the imagination of the British public. Similarly life is about relationship and community, not individual pursuit. God calls us to love and serve others, and to operate in the context of church fellowship. More than that though, our meaning in life is found through the most important friendship of all – the one offered to us by Jesus. In John 15:15 he goes on to say: "I no longer call you servants… Instead, I have called you friends." So having accepted God's love and lordship, we are offered an extraordinary level of access to him.
EXCELLENCE: the best way to live
Finally, once we've acknowledged that we're not in charge, but that instead we can accept the unconditional love and friendship of the one who is, there's the question of how that impacts our lives every day. In John 15:12, Jesus says: "My command is this: Love each other as I have loved you." This is also what Paul calls "the most excellent way" in 1 Corinthians 12:31. The best way of living when we've understood our place and value in the world is to try to relentlessly love others. The Olympics also value this kind of excellence, rooted in moral goodness – not just in terms of striving to win, but in taking part, supporting one another, giving one's best and making progress against personal goals.
And that's it. Three primal ideas which make sense to even a small child, and which transcend cultural boundaries. Three things we all naturally aspire to, written into both the constitution of the greatest sporting event in the world and the fabric of the universe itself. On its own, this simple three-step way of explaining the Christian message won't suddenly convince the most hardened atheist of the existence of God; and the Holy spirit is the only one who can do that anyway. What it might just do is provide a straightforward way to talk relevantly about faith during the course of the Olympics and help to demonstrate how the values which deep down we know represent the best of us and our culture are also the central values of the Kingdom.
Martin Saunders is a Contributing Editor for Christian Today and the Deputy CEO of Youthscape. Follow him on Twitter @martinsaunders.